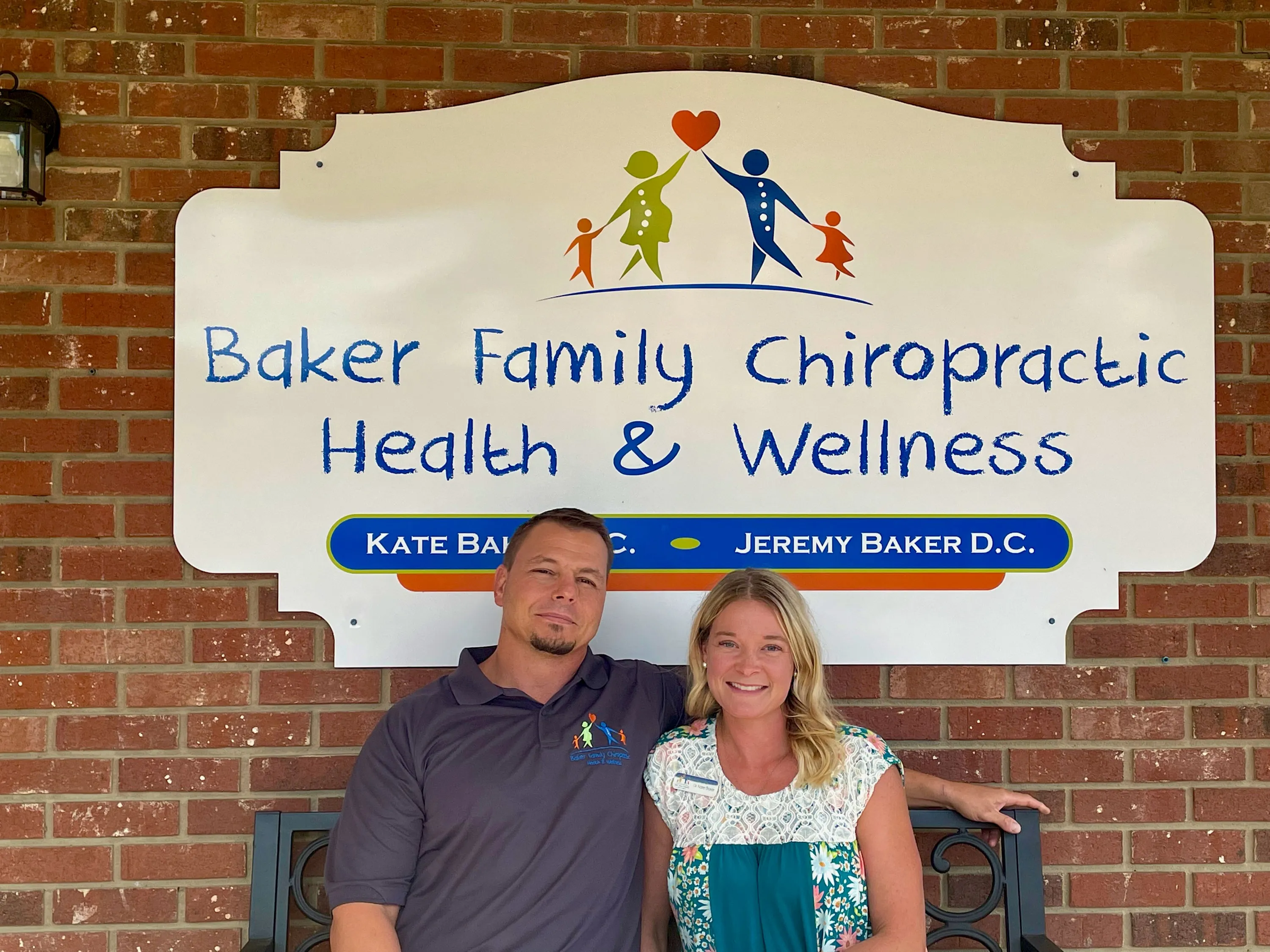 Dr. Jeremy and Dr. Kate formed Baker Chiropractic LLC in September 2011. Baker Chiropractic is a family oriented practice with an emphasis on holistic, natural healing. They have experience in conservative management of a variety of conditions. While both doctors are accepting new patients, Dr. Jeremy focuses on sports related and work injuries. Dr. Kate's emphasis is on pediatrics, pregnancy care and women's health issues. In addition to chiropractic care we provide school physicals, DOT/CDL physicals, Dry Needling, therapeutic modalities, performance training, and Digital X-ray. Call 270-212-0388 to make your appointment today in our Henderson office.
Dr. Kate Baker
Dr. Kate treats patients of all ages from birth and beyond however her emphasis is on pediatrics and women's' health care issues. She is certified in Webster technique which is very helpful in the treatment of pregnant women to help alleviate discomfort and maintain health throughout pregnancy. Additional techniques include: Flexion-Distraction, Diversified, Gonstead, Logan Basic, Activator, Graston, and Dry Needling. Dr. Kate is a member of the American Chiropractic Association, the Kentucky Association of Chiropractors, the International Chiropractic Pediatrics Association, and the American Chiropractic Association's Council on Chiropractic Pediatrics. Her hometown is in Buffalo Grove, IL but she relocated with her husband Dr. Jeremy Baker to Kentucky in 2011. The two met and married while at Logan College of Chiropractic in St. Louis. They are proud parents to Ava and Eliza Baker. Along with being active in her community, Dr. Kate enjoys running, being outdoors, yoga, and spending time with her family.
Dr. Jeremy Baker
Dr. Jeremy was born and raised in Sturgis. His parents are Kim Baker Taylor and Paul Taylor. Dr. Jeremy graduated from Union County High School in 1994. He wrestled and played a little football. Dr. Jeremy graduated from Murray State University with a Bachelor's in Exercise Science in 2001. He went on to receive a Master's in Sport Psychology in 2004. During school, he was president of the rugby club and the jui-jitsu club. Dr. Jeremy worked at Hannigans Motorsports in Murray, KY from 2008-2011. He was the head BMW trike builder during his time there. In 2008, Dr. Jeremy attended Logan College of Chiropractic where he met his wife, Dr. Kate Baker. The two were married in 2011 and welcomed their first daughter Ava into the world on June 4, 2012; their second daughter, Eliza was born on September 4, 2015. Dr. Jeremy achieved the following recognition during his education at Logan:
Radiology Red Badge
Biofreeze Center Red Badge

In addition to his studies, Dr. Jeremy also played Rugby for the St. Louis Bombers. He also has belts in Sambo and Brazilian Jui-jitsu and has a 3-0 record in MMA in Kentucky and Tennessee.